In the afternoon of November 17, DP President Renho met with Ambassador of France Thierry Dana at party headquarters.
At the start of the meeting, Dana congratulated Renho on her appointment as DP President, and Renho conveyed her appreciation to the Ambassador.
Dana commented on Britain's exit from the European Union and the result of the U.S. presidential election, and said that it was vital to build relationships of trust between nations in the midst of the greatest changes to occur in international affairs since the end of World War II.  Renho stressed that "We would like to maintain friendly relations with countries that value freedom, democracy and the rule of law."
DP Next Minister for Foreign Affairs Yukihisa Fujita, who had also attended the meeting, expressed his appreciation for the efforts made by the Ambassador in the wake of the Paris terrorist attacks.  Dana expressed his appreciation for the solidarity shown on this occasion by Japan, and stressed the importance of continued reform.  International Department Director-General Hiroe Makiyama expressed admiration for the various strategies employed by France in combatting falling birthrates, and said that the DP would like to reference these in order to eliminate waiting lists for nursery schools.  International Department Vice Director-General Rintaro Ogata explained about the pension system and the issue of long working hours. Both Makiyama and Ogata exchanged views with the Ambassador in French.
Finally, Renho stated that the DP would ensure that the voices of ordinary Japanese citizens were reflected in the party's key policies.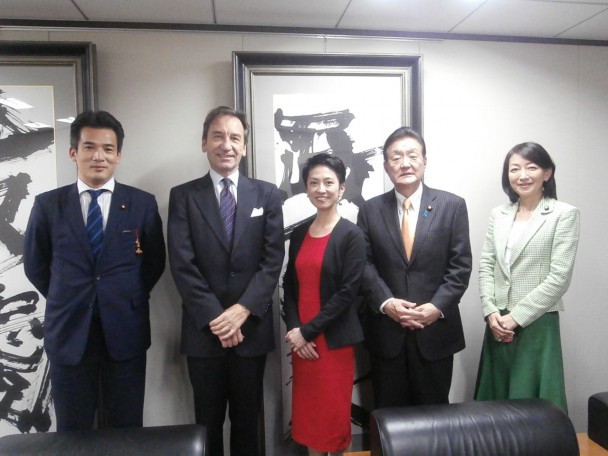 Photo: Commemorative picture with Ambassador Dana